Softwoods
PAR/PSE Redwood
PSE - Planed Square Edge
PAR - Planed All Round
Premium Joinery quality planed pine timber for painting, varnishing or where a consistent thickness is required.Products from slow grown trees typically over 80 years old, this timer is less likely to split or twist.
Joinery quality pine provides a smoother surface than other softwoods kiln dried to improve stability and straightness.  Planed with square edges (PSE) (PAR).
Please note, PSE due to machining this products finished dimensions will be smaller than the nominal sizes stated. Typically 5mm to 6mm less on the thickness and 5mm to 8mm on the width (dependant on original section).  Ideal for interior joinery where a superior finish is required.
All sizes are approx. and will vary with moisture content.
Listed is the range of sections regularly stocked (Subject to availability)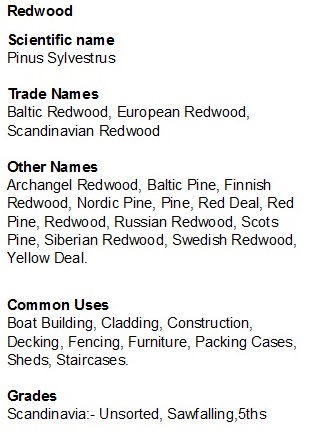 ---
Rough Sawn Redwood
We stock high quality sawn Redwood, all sourced from quality sawmills.
As well as standard Unsorted/Fifth qualities.  We offer a first class bespoke machining service on site to support our customers' requirements.
We sell Sawn redwood by the metre, bulk discounts for large volumes are available.
Listed is the range of sections regularly stocked  (subject to availability)