Kitchen Worktops
We have many worktops available to view in our showroom alongside a vast selection of samples.
Our product range covers all your needs from Granite to Laminate we will have something to meet your requirements and budget.
Many sizes are available with a fast and reliable delivery service assured.
Worktops can be supply only or fully fitted using our professional fitting team.
Worktop Ranges.
Granite.
Silestone.
Laminate.
Solid Timber. (Oak, Beech, walnut & many more)
GRANITE

Bespoke Granite Worksurfaces.
Available In 20mm & 30mm Thicknesses.
Lots of colours & edge profiles to choose from.  A style and colour to suit every kitchen.
Full supply and fit service with all Granite worktops.
SILESTONE
Bespoke Silestone Worktops.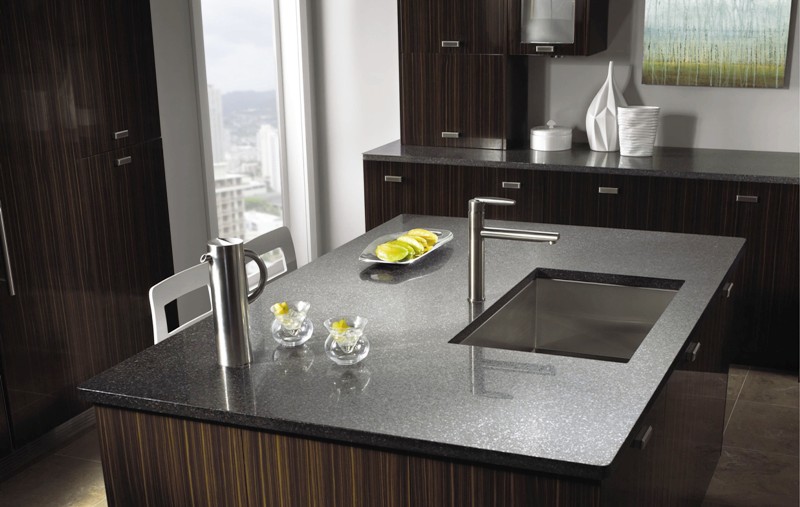 Available In 20mm & 30mm Thicknesses.
The Silestone range is available in more than 80 colours and 3 types of finish.
Polished.
Volcano.
Suede.
Thanks to its remarkable chacteristics, Silestone is the perfect application for countertops, it is the ideal choice to transform your kitchen into a unique space.
Silestone, the only one quartz surface with 25 years warranty, allows you to configure your space however you want, combining its wide range of colours and textures by maximising the use of the space.
The continuity can flow in your kitchen with Silestone, you can cover the flooring, walling, backsplash, front or downstand of your countertop. It is a material that can embrace its environment.
Silestone has built the Integrity sinks to provide your kitchen with continuity. Without joints, without cracks, without limits. Integrity is the first sink that can be totally integrated with your kitchen countertop. It includes all the characteristics that has made Silestone a revolutionary product.
Full supply and fit service with all Silestone worktops.
LAMINATE
Huge range of laminate worktops to choose from, with lots of samples for you to look at and take away.
Finishes & Styles
Granite Effect
Slate Effect
Gloss
Woodgrain
Matte
Etching
And Many More
Available In 30mm & 40mm Thicknesses.  And lengths up to 4.1m long.
Standard worktops & breakfast bars available, almost guarantee to have something to suit what you need.
Supply & Fit or Supply Only.
SOLID TIMBER
Constructed from solid timber staves, our worktops are carefully crafted to ensure maximum strength and durability throughout years of constant use.
Available in 27mm & 40mm Thicknesses.
11 Species of timber available including.
Samples available to view in our showroom.
Supply & Fit or Supply Only.
For further images please click /gallery/