Hardwood Heatlogs
Hardwood Heatlogs
Hardwood Heatlogs are the best alternative to traditional firewood. Our heat logs have a high heating value, and their moisture content is below 9%, as compared to 20% with kiln dried or seasoned firewood.
The main attraction to these heat logs is their high heat output. They burn at much higher temperatures than traditional wood logs, which means rooms heat up faster and get much warmer. This is huge advantage for anyone who uses a log burner as their only heat source.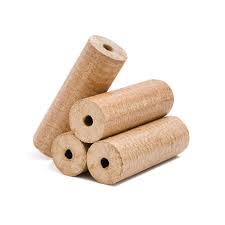 Hardwood Heatlogs are packed in handy 10kg packages. The packaging is compact and space saving. They must be stored in a dry area without direct contact to moisture. Each log is approximately 90 mm in diameter and 270 mm long; our hardwood heat logs can easily be broken into smaller sections, we recommend to break them as they expand while burning.
Burns at a much higher temperature
Fast heat up
Easier to light than traditional logs 
Burns completely through leaving nothing un-burnt
Creates a lot less ash means less emptying stove & cleaning
Ash can be used as fertilizer in the garden
Consistent briquette sizes means you know exactly what you're getting
Clean-burning
Hardwood Heatlogs are suitable for open fires, wood burners, multi-fuel stoves, burning stoves, log boilers, BBQs, and cassette fires. Our hardwood heat lots are not a smokeless fuel, but can be burnt in smoke controlled areas if used on a DEFRA approved appliance
Our hardwood heat logs are environmentally friendly - no chemical additives added during the production. They produce very little ash. Any ash that remains after burning can be used as a fertilizer for your gardening needs as it is 100% natural.